Play what you want to dance next
Recently had a nice chat with a Tango DJ – Carlos – from Buenos Aires, during the post-milonga supper after another energy-packed milonga. After hearing that he still DJs in the "traditional" mode by using original CDs and 2 CD decks in tandem, instead of pre-burnt tanda CDs or DJing using laptop as I do, for example, I was quite amazed, so I asked him how he selects music for the upcoming tandas?
He answered simply: "Just try to imagine what songs you want to dance to next, with a special partner in mind…"
Naturally it's important to point out that his answer should not be confused to mean "playing UNDANCEABLE music which only the DJ likes"! As related to me, and consistent with my own experiences, the confidence of choosing the right music can only come from a deep immersion in traditional Tango music as well as understanding the nuances of the good local dancers. In the case of Carlos, he apparently still spends 3-4 hours daily listening to Tango music, not counting the time spent at milongas, and is keenly aware of certain taboos (combinations of orchestras+singers and songs) to avoid when he is DJing for old milongueros in Buenos Aires. All part-and-parcel of training for a good DJ. It's quite heartening to hear him say that our particular milonga made him feel really at home with its special blend of atmosphere and music. 🙂
Nice revelation and certainly a fresh perspective. Thanks for the tip and hope to meet up with you again, Carlos!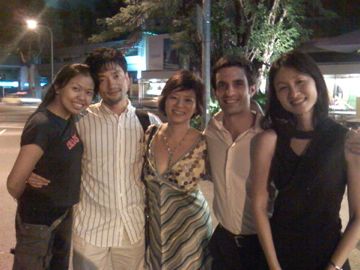 ps. I was the one taking the photo, in case you were wondering…